Be Aware:
Three Insurance Company Tricks
After a Car Accident
by J. David Standeffer, Certified Civil Trial Advocate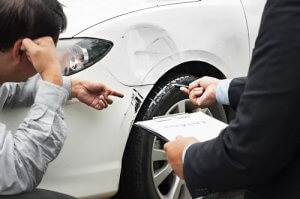 If you've have had a car accident, you're likely overwhelmed. If you were injured, you need to seek medical attention as soon as practical. You may also have transportation issues for work and family matters if you don't have access to a car. Insurance companies know that you are stressed, overwhelmed and probably not experienced or trained in the insurance claims process. They'll want to pay you as little as possible, even if you're entitled to more. By knowing some of the most common insurance tricks, you can be better prepared, when you need to file a claim.
Following are a few things you should be on the lookout for:
RUSHING RECORDED STATEMENTS AND GETTING SIGNED AUTHORIZATIONS
As soon as the wreck happens, the insurance adjuster will soon ask you for recorded statements and records. Recorded statements made after an injury or wreck may be used later to discredit you, and rushing your injury descriptions may not allow you to realize all of the damage done to your body.
The statute of limitations for auto accident claims may be as short as 2 years, and as long as you file your lawsuit within that time, your case will be continued to conclusion.
"WE ARE GOING TO HELP YOU!"
When you have been in an accident, you want to hear that someone is going to help you. Very soon, you get a call from the insurance adjuster asking about your health. They may even call regularly over the months, trying to make it look like they really care about your recovery and wellbeing. Often they ask to record the call.
Don't be fooled, the insurance company is only concerned about saving money and having you not mention important details of an injury or of the collision. All that they want is to pay you less money. The adjuster may want you to settle quick for a small amount of money, admit a mistake, or not tell all about your injuries. No matter what the adjuster is telling you, do not believe that they genuinely care about you and do not give a recorded statement, until you have enough time to collect your thoughts and can describe all of the facts of the event and all of your injuries.
ADVISING YOU THAT A LAWYER IS A WASTE OF MONEY
The insurance company knows you have to cover a lot of expenses. You need to repair or buy a new car, payoff medical bills, cover the cost of living for any time you were unable to work, and potentially even set up funds for the future, if you've become permanently disabled. An attorney's fee, the insurance adjuster will argue, is just spending money from what they will pay, now.
The truth is, that's not true. Insurance companies know that you likely have little or no knowledge of the legal system or the claims process, convincing you to settle for less than you are due. An experienced auto accident attorney knows the ins and outs of the system, and usually is able to increase the amount of money you receive after a portion covers their fees. Most lawyers only charge a part of the money insurance pays and nothing out of your pocket.
When it comes to dealing with insurance companies, you need a Certified Civil Trial Advocate, and there are very few. I have been Certified for over 20 years and have a history of successful experience with wreck cases. Please visit my website www.standefferlaw.com for contact information, qualifications and experience.